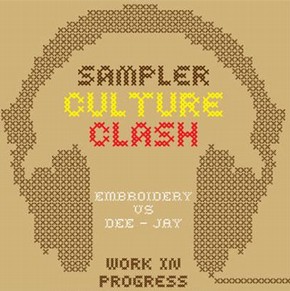 Manchester Craft & Design Centre celebrates 30 years by launching special Crafting History exhibition with a unique event combining craft and music by sampler-cultureclash.
The Crafting History exhibition will showcase creative responses to the history of the former fish and poultry market. Porcelain artist Carys Davies will produce a specially commissioned ceramic installation, interpreting the tales and memories of Manchester Craft & Design Centre (MCDC) submitted by visitors, artists and friends during the Collecting History project, which has been running since April, curated by artist and maker Lucy Harvey.
Over 30 resident makers from the Centre will also donate work to the exhibition, which will uncover facts and share stories from MCDC's eclectic past. Objects donated by resident makers to the Crafting History exhibition will be auctioned off at a special event in November 2012, with all proceeds going to the charity Shelter.
During the launch event for Crafting History during the afternoon of Saturday 14 July, students from the BA Embroidery course at MMU will deliver a series of sampling activities including an embroidery workshop and an installation exploring the connection between mathematics and embroidery, as well as a series of listening posts installed at the Centre.
These activities have been inspired by the history of the Centre and will link to a live performance in the evening by the sampler-cultureclash collective. From 6.30pm, the sampler-cultureclash collective will take over the Centre to host a free evening of "sampling shenanigans", including a live audio performance by DJs, musicians and spoken word artists.
The event will explore and celebrate the art of sampling through sound, embroidery, word and performance. The sampler-cultureclash collective – which includes David Littler, Jason Singh, Yusra Warsama and Berit Greinke – will gather sounds, words and stories from Manchester Craft & Design Centre and information specifically relating to the organisation's 30-year history to create a unique aural and visual spectacle. This promises to be a contemporary performance not to be missed.
Book your free tickets here
http://samplercultureclash.eventbrite.com/